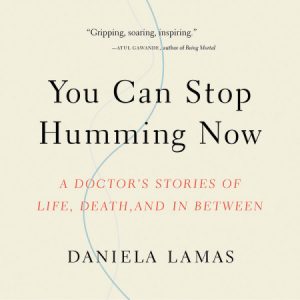 It's easy to get caught up in the future of technology and medicine. From advancements in blockchain and EHR interoperability to 3D printing to state-of-the-art discoveries in drug delivery, the healthcare industrial complex is pushing the boundaries like never before. Technologies like the left ventricular assist device (LVAD), which pushes blood through the body when the heart fails, and extracorporeal membrane oxygenation (ECMO), which pulls blood from the body and returns it reoxygenated, are becoming more common and allowing us to imagine a future where man merges with machine and staves off death.
The early forays to a technological singularity are occurring in the intensive care units at hospitals across the country as doctors, nurses, and healthcare teams work to help patients survive debilitating conditions longer than ever before. But like all pioneers, there is significant risk for the patients. In her new book "You Can Stop Humming Now," physician Daniela Lamas casts light on the patients that are often the sickest and most complicated in medicine. People with diseases like cystic fibrosis or heart failure are surviving what used to be early death sentences, usually with the assistance of advanced life support systems. Some of them are too sick to go home, but healthy enough to not always need ICU-level treatment. They are in between, in a precarious place, and Dr. Lamas is passionate in sharing their stories.
Dr. Lamas is focused on patients with chronic critical illnesses; long-term diseases that affect the families and lifestyles of patients. She is interested in their lives beyond the ICU. How do they cope with their illness? How will they adjust to a life with new parameters? Who supports them? What keeps them going? What causes them to give up? Will they find normalcy?
We meet patients with failing lungs, a brain injury due to an overdose, and a diagnosis of post-traumatic stress disorder (PTSD) from a stay in the ICU. The PTSD after an ICU stay is such a trying experience that they've introduced a new term for it: post-intensive care syndrome. She introduces us to people with tubes and catheters and scars, who have been poked and prodded, who have been questioned and examined, who have taken countless pills and injections. Some suffer from delirium, nightmares, memory loss, or delusions. Dr. Lamas explores their lives with compassion and curiosity, walking the line with finesse to educate and inform the reader.
I have read many of the great writers of modern medical literature, from Abraham Verghese to Oliver Sacks to Atul Gawande. Yet Dr. Lamas represents a new generation of writers whose experience as a doctor is connected to technology in a way I had not come across before. She writes of a healthy man who succumbs to sepsis and failing kidneys after a routine surgery. Faced with eternal dialysis, he takes to the Internet to find a donor. Somehow, he succeeds. And in words that could be lifted out of a business or dating handbook, the patient tells Dr. Lamas that the key to an effec is
"to develop the right kind of online presence: tone is important, and don't write too much. You need to keep a positive attitude."
Another patient in the book suffered from heart failure due to a lifetime of smoking and drinking. When the pills failed, and the defibrillator implanted in his chest continued shocking his weak heart, he received an LVAD to maintain the circulation in his body. Every night before bed, as he charges the batteries that operate the LVAD during the day, the patient plugs his device into a socket in the wall. Literally his heart's power is supplied by household electricity. Dr. Lamas invites us to consider this delicate union:
"Even so, I can't help but believe that there is something more to it all, some kind of meaning I can't ignore in the fact that thousands of people today are staying alive by plugging themselves into a wall socket each night. This very conspicuous melding of human and machine has long struck me as a life at the edge."
Indeed, technology is revolutionizing medicine, but it is clear that Dr. Lamas is still committed to making some kind of connection with her patients. In a system built on strictly enforced protocols and healthcare providers who recoil at vulnerability, it is refreshing to see how honest and hesitant a physician can be in the interaction between patient and provider. Dr. Lamas writes about not being sure how to answer a patient's Facebook friend request or how to accept a plate of food from a patient's family or how to respond to a difficult question. She wants to make a connection, and often does, yet sometimes wonders what is the best way to go about it. It's a challenge that many of my colleagues have faced and it is comforting that someone as accomplished and insightful as Dr. Lamas can be so open about it.
In a recent New York Times Magazine article by physician, Abraham Verghese, author of "Cutting for Stone," he reminds us that over reliance on technology and data will lead to doctors operating as highly paid clerical workers. He talks about doctors who cut and paste parts of the medical history when exhausted by the avalanche of paperwork and computer clicks so that the patient's note is up to billing standards (something I've done as a medical student and Dr. Lamas even admits to), warning that we are losing the art of medicine if we do not make an effort to dictate the terms of how technology is implemented in healthcare. He writes,
"True clinical judgement is more than addressing the avalanche of blood work, imaging and lab tests; it is about using human skills to understand where the patient is in the trajectory of a life and disease, what the nature of the patient's family and social circumstances is and how much they want done."
"You Can Stop Humming Now," is a testament to Dr. Lamas practicing true clinical judgement as she navigates not just the complexities of medical diagnoses and technological achievement, but, more importantly, the fragility and humanity of her patients' lives. As I start my career as a resident in July, my goal is to practice the art of medicine in the example of Dr. Lamas: by treating the patient and not the disease.
Her book is an excellent reminder to all healthcare providers that although cutting-edge technology is leading to amazing advances, we should take care not to forget that real people are undergoing relatively new and invasive treatments with uncertain futures. She asks us to take time to understand what our patients are going through; to not just narrowly focus on the patient's history and future outcomes, but to accompany them in the uncertain territory in between.